Join Project Sakinah for National Domestic Violence Awareness Month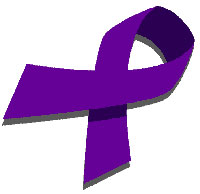 Project Sakinah believes that real change in our communities requires more than symbolism. While symbols are important, real change comes from all of us getting involved and take meaningful steps, even if small. Consistency of commitment and action is more important than intermittent display of symbols. These actions should lead to a changing of our conditions."...Allah does not change the condition of a people unless they change themselves..." - (Quran - 13:11)
Symbolically this Thursday October 22nd please do the following...
Wear purple - Join Project Sakinah and other communities across the country by wearing purple on #PurpleThursday to help raise awareness and show solidarity with victims of domestic violence.
Start a conversation – Increase awareness of the issue of domestic violence by starting a conversation with as many people as you can.
Help a victim – Help an abused victim by referring them to professional experts. You can also help by learning more at Project Sakinah.
Anas Coburn leaves Project Sakinah and Dar al Islam

Our old friend and longtime associate Richard Anas Coburn leaves Dar al Islam and Project Sakinah at the end of October. He has been with Dar al Islam for over twenty years.
Anas was at the forefront of the planning and development of Project Sakinah. Shortly after the tragic events of the murder of Aasiya Zubair, Mr. Coburn approached the Chairman of Dar al Islam with ideas and proposals to do something of substance. He was a passionate advocate of Project Sakinah and the work Dar al Islam undertook in that effort.
Shortly after joining Abiquiu Inn, Anas was made a part of the senior management of Dar al Islam. Prior to Project Sakinah, Mr. Coburn was a part of almost every major undertaking of Dar al Islam and a key associate and confidant of the Chairman. We wish him well and will miss his sincere work and insightful advice.
Join the discussion with our friends at Karamah
KARAMAH has organized a series of community lectures and conversations in the month of October under the banner "Love Like the Prophet." These events aim at addressing domestic violence from an Islamic perspective, promoting discussion within our communities about this issue, and shedding light on the resources available to survivors.
Champions for Justice - 21st Annual Fundraising Banquet
Join our friends at CAIR with Dean Obeidallah, Tawakkol Karman, and Omar Suleiman at the Champions for Justice banquet at the Marriot Crystal Gateway in Arlington, VA.
Visit the event's page on Facebook
---