On the Road to Sakinah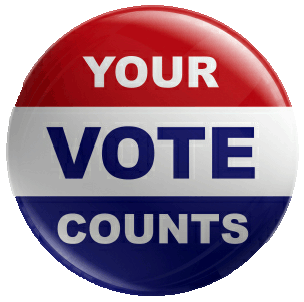 Why local candidates matter for Domestic Violence Victims?
Protecting families who are victims of violence is a bipartisan issue with strong supporters in both parties. We'd like to remind you if you're eligible to vote, to please do so today.
While the focus on this election is naturally on the Presidential candidates, do not ignore your local elections. Those choices can directly affect funding and services for shelters and agencies which serve family violence victims. Local newspapers often publish voting guides which can help you navigate the issues/candidates. You can also Google your state + voting guide for help.
Once again, if you're eligible, please take the time to vote today. Numerous Muslim scholars have spoken out about the importance of voting. If you are unsure where to vote, your voter's registration card should list your local polling place.

Project Sakinah Heads to Northern Virginia
Project Sakinah is pleased to announce the launch of a new team in Northern Virginia, part of the Washington, DC metro area. On Saturday, November 17th, we will launch the team with an event at ADAMS center, a large, multi-site Islamic organization, and the home masjid of Imam Magid, who currently serves as the President of ISNA. This launch is being co-ordinated with help from Peaceful Families Project, who has collaborated with Project Sakinah from its inception. For more details about the coming event, please see the announcement on our website.
---
Sakinah Healthy Marriage Initiative - Empowering Young Couples
"As part of the Sakinah Healthy Marriage Initiative, we are promoting premarital counseling, pre-marriage education, newlywed education so that couples and individuals get information about what it means to be married, before they get married and get some of the skills that they need to make a happy healthy marriage. We are working with Project Sakinah as a collaborator toward this effort."


Dr. Aneesah Nadir,
President, Islamic Social Services Association - USA
---
You and Project Sakinah
Project Sakinah is your project. Its success depends upon YOU. Please do your part.



Share Your Story:

We're looking for more stories of survivors of all types of family violence for our website. Often times, we only highlight those which have a tragic end, but the vast majority do not end in homicide. If you're willing to share your story, on domestic violence, child abuse, or elder abuse we'd love to have it. Knowing that they're not alone can be a great comfort for other survivors. You can remain as anonymous as you like. Please send us your story to MyStory@projectsakinah.org



Take a survey:

Take this short four question survey on domestic violence resources in your community—what's available and what would you like to see.



Give us feedback:

Post a question. Suggest a topic for next month's e-newsletter. Shine some light on a friend or community member. Tell us how we are doing.



Join us on Facebook:

Our page provides valuable information to our community every day, several times a day. Join us on Facebook, invite your friends, and help us to spread the message.




Please help support Project Sakinah