On the Road to Sakinah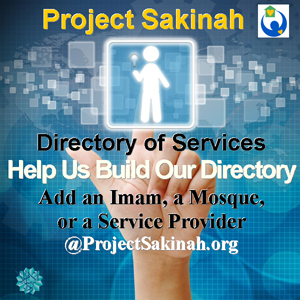 Muslim Family Services Resource List
We are pleased to announce the launch of the very first community driven list of resources for Muslim families. It is, we believe, the largest database of social services and imams and mosques experienced and equipped in resolving family issues and in growing healthy communities by preventing violence. If you're looking for a marriage counselor, shelter, psychologist, etc.--this is the place. If we missed a resource you're familiar with, you can add it as well. Please check it out and pass the word about it within your community.
Midwest Organization for Human Services Annual Conference
On March 14th-16th, Irma Dalquist and Noor Church of Project Sakinah's Chicago team will be presenting at the Midwest Organization for Human Services Annual Conference at Harper College in Palatine, IL.
DV Training in NoVA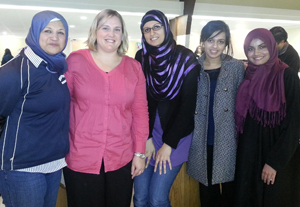 By the grace of Allah, we're very proud of our Northern Virginia Project Sakinah team! Many of our members completed their 20 hour Fairfax County Domestic Violence Training program. Pictured are Project Sakinah NoVa team members Shamah Khan, Anam Mian, and Sidra Kalsoom along with Fairfax County's domestic violence coordinator, Sandy Bromley.
Interfaith Prayer Vigil in Columbus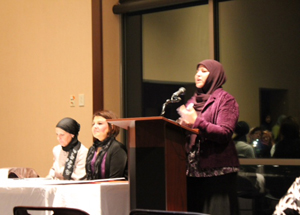 On March 3rd, Project Sakinah's campaign manager, Zerqa Abid, spoke to an interfaith gathering of about 300 people in Columbus, OH. She urged community to team up against all kinds of family violence within our community. Other guest speakers included a representative of Asha Ray of Hope. The event was organized by Columbus Faith Coalition Against Violence and was hosted by Noor Islamic Cultural Center.
NoVA Event "Victim No More"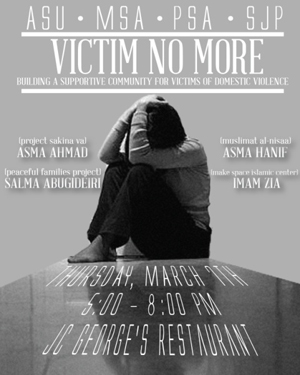 Project Sakinah NoVA's team participated in a panel discussion titled "Victim No More" at George Mason University on March 7th. The event was hosted by the GMU MSA. The panel consisted of an imam, a founder of a women's shelter, a psychologist, and a social worker—all talking about the nature of domestic violence and how we can work together as a community to fight against it.
Please visit the Events page for more details.
We Need a Community United Against Family Violence
"We need to get over being embarrassed about it and start solving these problems. Start taking care of these families and take a stand against it as a community united."



- Naeem Muhammad,
Native Deen
You and Project Sakinah
Project Sakinah is your project. Its success depends upon YOU. Please do your part.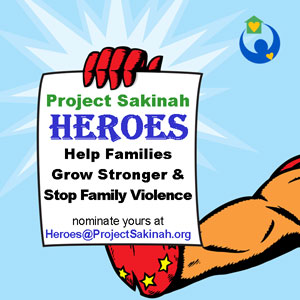 Nominate Your Heroes: Project Sakinah Heroes include both Muslim men and women, who have strived to protect and improve Muslim families through their profession, leadership, advocacy and community services. Please take a moment and tell us about a hero in your family or community. Email us at Heroes@projectsakinah.org
Take & Share the Pledge to Grow Healthy Families:
If we all want to bring a real change to our community, then we have to make a promise to ourselves and to each other that we will do our best to meet that goal. Taking Project Sakinah's pledge could become the first step of that conscious decision. It could also be a great way to start a real conversation within your family and friends. Please take this pledge now and then ask others to do the same.