It's your chance to win a Desi Doll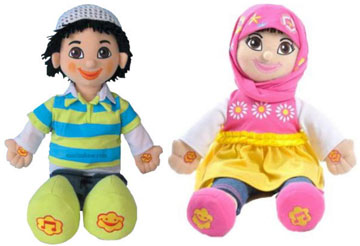 Project Sakinah's Directory of Services includes individuals and organizations who provide services to families in need, including counseling, shelter, community outreach, legal, medical and religious services. We ask everyone to make entries, and until Ramadan begins, by entering more resources to the directory, you earn more chances to win an Aamina or Yusuf doll from the Desi Doll Company. These dolls teach your children Qur`an in Arabic and English, as well as helping them learn various Muslim phrases and songs! What are you waiting for?
On the Road to Sakinah
DC Team Holds Workshop about Elderly AbuseOn June 15, 2013, Project Sakinah DC team is holding a workshop entitled "What can you do about family violence?" We will address the question by providing relevant and practical information for our Muslim community. In addition to general information on family violence across the lifespan, this event will include a special focus on elder abuse in recognition of World Elder Abuse Awareness Day. More Info Here.
At the ICNA-MAS Convention, Project Sakinah represents its Collaborators By the grace of Allah almighty, we reached hundreds of people at this year's ICNA-MAS Annual Convention in Hartford, CT. We distributed informative material produced by us and our collaborators to help build strong Muslim families and would stop family violence within our communities. As our coalition grows stronger, we hope to engage more of the community with increasing the increasing effectiveness necessary for long-term, sustainable change.
The Need to Take Action against Domestic Violence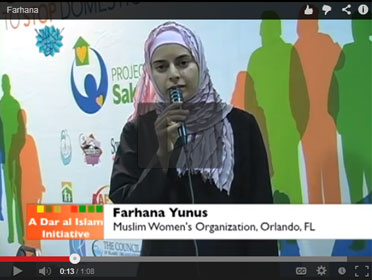 "We have this need of not only providing this information about domestic violence but actually of taking action in the community. We need people talking about it, people teaching it, seminars on it. It's critical for Muslim community." - Farhana Yunus
Muslim Women's Organization, FL.
Team Up with
RamadanProject Sakinah and Ramadan are natural partners. Both advocate for healthy relationships with loads of love and mercy to bring sakinah, tranquility, into the homes and minds of people. Let's dedicate this Ramadan to strengthen our families. Here is a list of a few ways to get the best out of it.
The Plight of
Muslim ParentsElderly abuse is a very touchy topic within Muslim community. As a community, we take pride in taking care of our parents and other elderly. Islam teaches us to be kind and gentle with our family members, especially with the children and the elderly. We would hope that it is true for all Muslim families, but unfortunately, it is not the case in a growing number of American Muslim families. Zerqa Abid writes about seeing elderly mother/mother-in-law working as a free maid for cooking, babysitting and taking care of the household while the couple is resting, watching TV, going out and partying?
Spotlight on Zarinah Nadir Esq.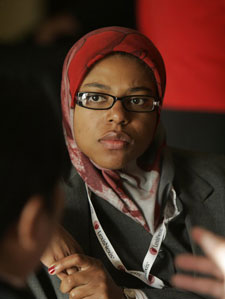 This month's spotlight is on a young but already established nationally leading advocate Zarinah Nadir, Esq. In her teen years she started to facilitate and implement activities to support and empower young Muslim women thus engaging in the prevention of family violence. By now, she has set a track record of constantly advocating for strong, healthy, violence-free families.
Currently, Zarinah serves as a board member of the Islamic Social Services Association-USA, a national organization addressing social issues and promoting social work and related fields in the Muslim Community as well as providing trainings and assessments for communities in need. She is also the co-founder and board member of Al-Mu'minah Muslim Women's Association, dedicated to instilling activism and leadership skills in young Muslim women.
Zarinah's legal focus includes family law, juvenile law, and affordable legal services for families. Her research interests focus on marital and inheritance rights in Islam and ways to ensure the enforceability of these rights under American Civil Law.
Our Collaborators:

You are recieving this email because you either met one of us or registered for it on our website.

Dar al Islam P.O.Box 180 Abiquiu, New Mexico 87510

Want us to buzz off? You can unsubscribe anytime.

Copyright © 2013 All rights reserved.
View | Forward | Subscribe