Reach Out to Save Muslim Children in America
By the grace of Allah Subhanahu wa ta'ala, the Project Sakinah family has been joined by many new members in this past Ramadan. We clearly felt the awakening of the community to the harm done to our families due to family violence. While we are focusing on various ways to prevent all kinds of family violence and its horrible consequences, our individual teams are currently preparing to combat trafficking, drugs and other issues within their own communities. We need you to join hands with us in reaching out to your family, friends and community. You can bring us to your town and can help start a conversation that might save many children and adults within your own community. Please click below and find various ways to do so. We hope to hear from you soon.
On the Road to Sakinah
Breaking the Silence in the Memory of Nazish Noorani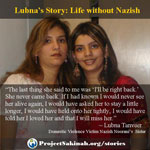 Last weekend marked the second anniversary of the murder of a young mother of two children, Nazish Noorani, in Boonton, NJ. On Saturday, August 17th, 2013, the family and the friends along with the community members gathered at the Jam E-Masjid Islamic Center in Boonton to cherish her memories and to address the issue of domestic violence within the community. Project Sakinah was represented by Sr. Zerqa Abid. Sr. Robina Niaz of Turning Point, NY, and renown author and speaker, Suzy Ismail were also part of the program. Noorani family and friends have decided to launch Project Sakinah Boonton Team to keep Nazish's memory alive. Her sister's moving speech is here. Full coverage by NJ's Daily Record is here. Pictures are here.
Ready for ISNA Annual Convention 2013
50th ISNA Convention is just two weeks away from us. This year, we will be in the front middle of the bazaar, booth numbers 712 & 613. If you are attending the convention, then it is your chance to meet with us in person and to collect stickers, brochures and other cool items to raise awareness within your community and family.
Please contact us, if you would like to help us at the booth.
Organize an Event this OctoberOctober is the domestic violence awareness month. During this month, thousands of events will be held by agencies and organizations to draw people's attention. Hajj and Eid ul Adha are also falling in the middle of October. It's a great opportunity for Project Sakinah family to gauge both momentums to organize our community against domestic violence. Please ask all hajis to make special prayers to end this evil and for the success of our project. Also let's organize events and launch campaigns within our communities and mosques. Collaborate with existing organizations or start your own team. Please contact us for tips, material or any other help.
A Crime called Domestic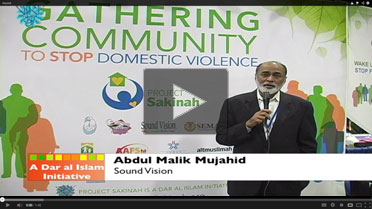 "Domestic Violence. How can a crime be called domestic? This question is the one that we all individually and as a family must ask. It is a behavior, that must be repelled, must be fought at, and Sound Vision is proud be partnered with Project Sakinah and in working with everyone against something as wrong as domestic violence." - Abdul Malik Mujahid,
Sound Vision
Project Sakinah
Directory of
Servicesincludes individuals and organizations who provide services to families in need, including counseling, shelter, community outreach, legal, medical and religious services. We ask everyone to help us by entering information about your local resources. This might save another family from breaking apart.
Not in My
HouseA blogpost by Yusra Goma
"H-H-Hello, Asalaamu'alaykum. Umm, my name is Amna and I have two young children. The state is terminating my parental rights, and there's nothing I can do. I didn't know who else to call. I have one month to find someone before they go up for adoption. Can you please help me find a Muslim to adopt my children?" The mosque director began a three-week campaign in Tennessee to find Muslims both willing and qualified to adopt these two children, but found none.
Spotlight on Afsheen Iqbal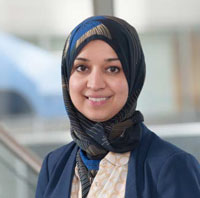 This month's spotlight is on Afsheen Iqbal of Boonton, NJ. Afsheen is a relative of Nazish Noorani and is the lead organizer of Saturday's event.
By profession, Dr. Iqbal is a medical oncologist working at Memorial Sloan-Kettering Cancer Center in NJ and has nothing to do with domestic violence directly. But she has seen enough harm done to families and children due to domestic violence that she took it upon herself this year to organize Boonton community to address the issue beyond just raising awareness.
Upon Project Sakinah's request, she contacted Noorani family and the local mosque and has pulled off a rather big event in a very short amount of time. May Allah subahnahu wa ta'ala, reward her immensely for her service to the community. May this event become a turning point for many others in the area who are in abusive relationships.
She was born and raised in Boonton, NJ and has always remained a "Jersey girl". She is married to an attorney, Hassan Ahmad, who focuses on civil rights issues pertaining to Muslims but also is a criminal defense attorney by training. They have 2 boys, Musa and Yousuf, and currently reside in New York.
Our Collaborators:

You are recieving this email because you either met one of us or registered for it on our website.

Dar al Islam P.O.Box 180 Abiquiu, New Mexico 87510

Want us to buzz off? You can unsubscribe anytime.

Copyright © 2013 All rights reserved.
View | Forward | Subscribe