Healthy Marriages for Strong Families
This year, Project Sakinah has launched a four-month campaign "Healthy Marriages for Strong Families" to address the issue of domestic violence with a holistic approach. We are blessed to have a significant number of organizations, professionals and individuals in our community who dedicate their lives to address this evil within Muslim community. We invite all of them and the rest of the community to join hands with us in stopping the abuse and growing strong families.
On the Road to Sakinah
Project Sakinah Launch in New Jersey –
This Saturday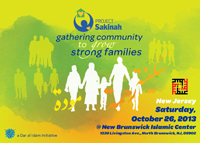 On October 26, 2013 Project Sakinah is teaming up with the New Brunswick Islamic Center, NBIC, in organizing "Gathering to Grow Strong Families." In this half-day event, we are bringing well-known speakers to talk about the need of strengthening Muslim families and empowering individuals. We will address the existence of violence and its impact on our families and children and will encourage community members to launch community actions teams to bring a long-term, sustainable change, InshaAllah. Click here for more info.
My Jihad is Project Sakinah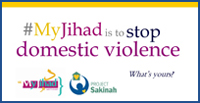 We are pleased to announce our collaboration with My Jihad Campaign. Both organizations will be campaigning together to draw attention to the family violence and related issues.
A Roundtable Response to Domestic Violence @ OSU

On Friday, November 1st, 2013, the Project Sakinah Columbus Team will be collaborating with The Muslim Students Association at The Ohio State University for a round table discussion about Domestic Violence. We will be discussing the different warning signs of Domestic Violence, prevention techniques and what you can do to help with this growing and pressing issue affecting Muslim communities everywhere. Click here.
Columbus & Atlanta teams Campaigned on Eid Day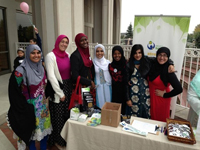 Kudos to Atlanta and Columbus teams that reached out to several hundred people in their communities to raise awareness about family violence. Several volunteers young and adult helped in the distribution of campaign material.
The Community Must Take Care of Abuse Victims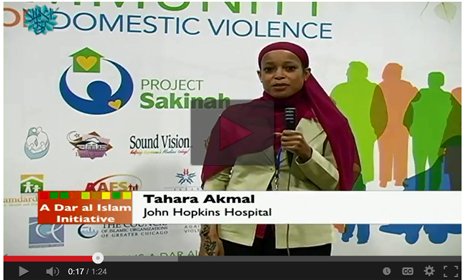 "As a community we should rally around people who need help, people who are suffering and struggling, because it is our duty as Muslims to take care of those who could not help themselves or to speak for people who may be afraid or being shameful about the situation." - Tahara Akhmal,
Chaplain, John Hopkins Hospital, CT.
Project Sakinah
Directory of
Servicesincludes individuals and organizations who provide services to families in need, including counseling, shelter, community outreach, legal, medical and religious services. We ask everyone to help us by entering information about your local resources. This might save another family from breaking apart.
Do 4 Thingsfor Aasiya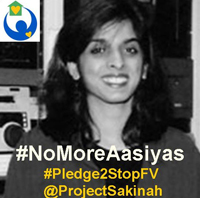 Project Sakinah was launched in a response to Sr. Aasiya Zubair's murder at the hand of her husband, Muzzamil Hassan, in February 2009. Many of us woke up to the reality of domestic violence in the Muslim community due to her brutal death