Sakinah Network of Imams & Chaplains
We are pleased to announce the launch of the Sakinah Network of Imams and Chaplains. This is a network of imams and chaplains collaborating to foster strong Muslim families, stop family violence, protect our children from neglect and broken homes, and our youth from drugs, gangs, and sex-trafficking. Check out the network's website. Invite your imams and chaplains to join this network.
On the Road to Sakinah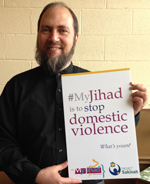 Our collaborative social media campaign with #MyJihad is going on the entire month of March. The campaign is focused on reclaiming our Prophet's peaceful example for Muslim families. Alhamdulillah, we have reached thousands of people in less than two weeks. We're asking community members to tweet pictures of themselves with #MyJihad posters. More details and free posters here.
On April 5th, Imam Abbas Ahmed of the Cleveland First Mosque and Attorney Yusra Gomaa, Guardian ad Litem with CASA-Ohio, will take part in a national webinar organized by Project Sakinah on the need for Muslim foster parents. Please click here for more details.
Event:
Fundraising Dinners for Project Sakinah in Columbus & Raleigh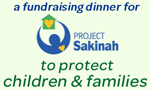 This month, Raleigh and Columbus community members are organizing fundraising dinners. The proceeds from these dinners will help protect our children from Gangs, Sex-trafficking, Drugs, Family violence, Neglect, and Broken Homes by supporting Project Sakinah's efforts to organize programs on Muslim Foster Parenting, Muslim Youth Mentoring, Parenting Workshops and other programs and events to nurture healthy relationships within Muslim families in Columbus & nationwide. For more details please check our Events.
Communication is the Key to solve problems within Families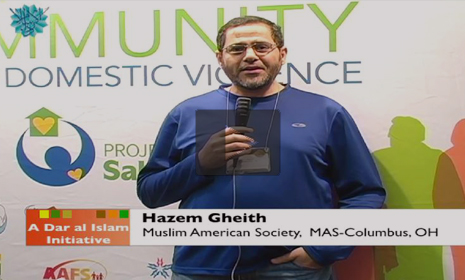 "We need to understand what Islam is calling for in terms of family communication, raising children and dealing with children especially with teenage children. We know families go through stress and hard times but the solution to it is communications – Communication between the parents, communication between the parents and children. That's the way to solve the problem." - Hazem Gheith, MAS Columbus
Watch the video for more.
Spotlight on the Tarazis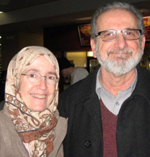 This month's spotlight is on an amazing couple that has been contributing to the development of the Ohio Muslim community for decades. Dr. Mouhamad Tarazi and Sr. Norma Tarazi are Project Sakinah National Pioneers. They have been supporting Project Sakinah from day one. But even before and beyond Project Sakinah, their lives have always been dedicated to the strengthening of Muslim families--empowering Muslim youth with wisdom, character and knowledge.
Sister Norma Tarazi has served the Columbus community in many different roles including as a Board Member of CAIR-OH, teacher at Sunrise Academy, writer, and speaker for the community. She co-authored "The Child in Islam" a parenting book for Muslim parents. You can read an except here. You can read her blogs here and here.
Dr. Tarazi is a community organizer, writer, blogger, speaker, imam and family counselor. He has been president of two of the major local Islamic organizations, ISGC and IFCO, and continues to serve on the boards of several local Islamic institutions. He has provided all of his services to the community for the last 20 years on a volunteer basis. Together, they have two children and five grandchildren.
You are recieving this email because you either met one of us or registered for it on our website.

Dar al Islam P.O.Box 180 Abiquiu, New Mexico 87510

Want us to buzz off? You can unsubscribe anytime.

Copyright © 2014 All rights reserved.
View | Forward | Subscribe