Dear Project Sakinah Family, Assalamu Alaikum, There is a lot happening in the next two months and we'd like to fill you in. Please take a look below at some of the events our local teams have been engaging in around the country. We hope you find these events interesting and of use. We are committed to gathering communities nationwide to build stronger families Insha'Allah. Please keep this project and us in your prayers. Sincerely yours,
Zerqa Abid
Conference & Live Stream:Marriage: Half Our Deen featuring Yasmin Mogahed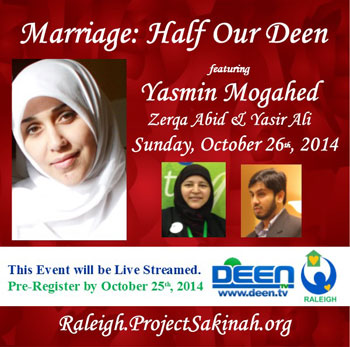 Project Sakinah's Raleigh Team is pleased to present a conference about fostering healthy marriages featuring renowned speaker Yasmin Mogahed, Zerqa Abid, and Yasir Ali on October 26th, 2014 (3:00 – 6:00p.m. EST). In collaboration with DeenTV, this event will also be LIVE-STREAMED. Host a watch party with your community! Click here for the full program.
Conference:
Marriage: Half our Deen – 1st Annual Conference in Columbus, OH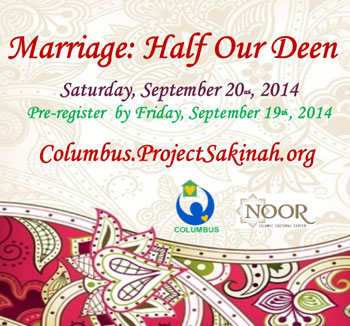 After the success of Project Sakinah's Columbus Team's, "Secure the Future" Youth Conference in June, they are excited to hold another much-anticipated conference about marriage on September 20th, 2014. Topics to be discussed include pre-marital counseling, family therapy, domestic violence, and more. Speakers include Sheikh Hossam Musa, Aliah Azmeh (MSW), Ayan Hassan (Outreach Victim Advocate), and Humera Mahmood (IMFT, LICDC). There will also be a fun, engaging session featuring strong couples from the community such as Zaheda & Mahmudur Rahman and Asma Mobin-Uddin & John Kashubeck. Click here for the full program.
Community Development:Columbus Muslim Community Summit
Project Sakinah's Columbus Team hosted a successful Muslim Community Summit on September 6th, 2014. The goal of this meeting was to come up with a long–term and short–term plan to address our youth and family issues as a community. They discussed the ways to implement programs like youth mentoring and parental education. See full meeting notes here.
Comminuty Outreach:Project Sakinah at 51st Annual ISNA Convention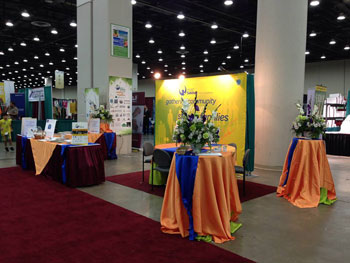 We were blessed to be at ISNA in Detroit, MI over August 29th – September 1st, 2014. Our booth was right in the front of the bazaar. Thank to Sr. Jamillah Faust-Wade, the booth looked wonderful. We were able to reach out to hundreds of people and have networked with dozens of local and national organizations. At this year convention's, we found new collaborators and supporters including ACCESS, ICNA Relief, Helping Hand USA, Islamic Relief, IQRA International Educational Foundation, and Muslim Family Services (MFS). See more photos here.
A Multidisciplinary Conference:Human Trafficking & Armed Conflict – Washington D.C.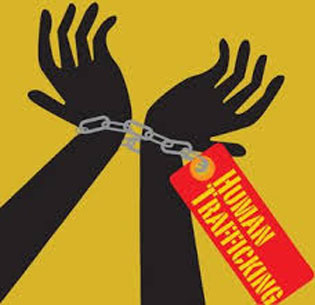 Our Project Sakinah DC team is inviting community members to attend a one-day conference addressing Human Trafficking and Armed Conflict. The International Humanitarian Law (IHL) unit at the American Red Cross offers educational programs and public events to shed light on key issues surrounding armed conflict and to bring together communities of learning in order to share best practices. The September 25th conference is a full day event designed to bring policy makers, service providers, government, military, academics and advocates together to highlight critical issues and share success stories. Click here for more details and registration..
Interfaith Conference:Human Trafficking & Domestic Violence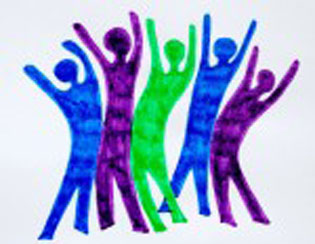 Dayton, OH
Project Sakinah's Columbus Team is pleased to be a supporting organization of an interfaith conference about human trafficking and domestic violence to be held by the Dayton Mercy Society on October 29th, 2014. DV and HT know no boundary. Please join us to learn how we can help save lives. Click here for more details..
Our Collaborators:

You are recieving this email because you either met one of us or registered for it on our website.

Dar al Islam P.O.Box 180 Abiquiu, New Mexico 87510

Want us to buzz off? You can unsubscribe anytime.

Copyright © 2014 All rights reserved.
View | Forward | Subscribe