The Impact of Adverse Childhood Experiences Throughout the Lifespan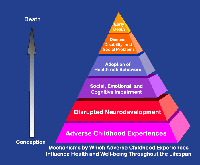 Click for larger image
Some of the most important and relevant work presented at the Muslim Mental Health Conference (see below) concerned Adverse Childhood Experiences (ACEs). One aspect of the significance of the study for Muslims is to reflect upon the extent to which Muslim family members are subjected to various kinds of trauma – including the trauma that arises from having relatives and friends who are caught in conflicts around the world. The Adverse Childhood Experiences Study (ACE Study) recruited over 17,000 participants between 1995 and 1997 and has done long-term follow up for health outcomes. The study has demonstrated an association of adverse childhood experiences (ACEs) with health and social problems as an adult. As knowledge about the prevalence and consequences of adverse childhood experiences increases, trauma-informed and resilience-building practices based on the research is being widely implemented. The graphic below presents an overall summary of the findings. For more detailed information, see
Adverse Childhood Experiences (ACE) Study
from the
CDC website
.
Community Response to family issues.
On February 6, we presented the work of Project Sakinah to the Islamic Society of Western Massachusetts (ISWM). The event was organized by brother Sufu Hashim with the support of Dr. Salem Bajwa, Treasurer of the Board of the Center. A group of influential decision makers in the community's affairs attended, including the President of the Board, Dr. Zubair Kareem, as well as Dr. Bajwa and the long-time Imam of the center, Dr. Wissam Abdel-Baki. After presenting the range of challenges faced by Muslim families in the United States, there was a productive discussion regarding how the Muslim community's response to these issues could most effectively be structured. Important points raised by those in attendance included:
In order to be of service consistently over the long-term, the community must identify a champion or champions for these issues who is committed to developing a community response.
The relationship between the Imam and the person or group helping with social services needs of families is crucial. It is important that the community perceive the close working relationship between the Imam and social services coordinator as making it safe for community members to reach out for help.
The issue of confidentiality is seen as a potential stumbling block to the success of these efforts, and clear standards of confidentiality on the part of those working to address the needs in these areas must be in place, and known by the community at large to be in place.
Project Sakinah at the 7th Annual Muslim Mental Health Conference
Project Sakinah took part in the annual Muslim Mental Health Conference held this year in Dearborn, MI and sponsored by the Institute of Muslim Mental Health and Michigan State University. The conference, from March 26th to March 29th, 2015, had a theme of "Faith & Healing: Moving from Trauma to Empowerment." Presentations were made by Muslim and Non-Muslim academics and were targeted toward an audience of primarily Muslim professionals working in the social services fields.
Project Sakinah at the 5th Annual National Shura and In-Service Training for Chaplains
On March 7, Project Sakinah took part in the annual Shura and Training for the Association of Muslim Chaplains that took place at Yale University in New Haven, CT. This emerging association is making progress toward establishing Endorsement Councils for Chaplains, working toward the establishment of an Islamic Seminary, and developing the contributions made by Muslims serving as Chaplains in various kinds of institutions. Of particular value was a presentation by Dr. Feryal Salem, the co-director of the Islamic Chaplaincy program at the Hartford Seminary, on Models for Spiritual Care from the Tradition of Islamic Spirituality.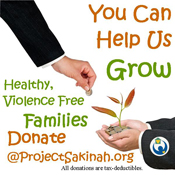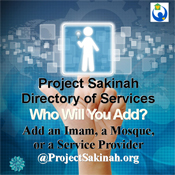 Letter to a Stranger - by Isra