On the Road to Sakinah
Survey Concludes Successfully
We are pleased to report that over 700 Muslim men and women from across America and Canada participated in the survey: "Attitudes of Muslim Men and Women Toward Domestic Violence." The survey concluded on October 31, 2011. The results of this survey will be shared with the community after the thorough analyses is done by our researchers. The survey is a collaborative effort of Project Sakinah and Peaceful Families Project, and many individuals and institutions, including ISNA helped publicize it for us.
Columbus and Chicago Took the Lead!
By the grace of Allah, we have successfully launched Project Sakinah in Columbus and Chicago last month. Our programs were very well received by the audience. Community members in both cities have joined hands and are putting together a year-round plan for their cities this month. For an in-depth report about these events, photos and videos please, click here.
Activity and Project Ideas for you:
Don't know how to gather your people? Let us help you. Check out our Outreach and Project Pages for ideas and initiatives that you may easily adapt for your need.
Chicago Community Teams Up with Project Sakinah
PayPal - The safer, easier way to pay online!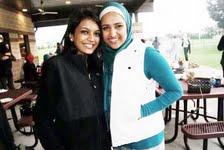 Ainie Zafar on right with Adeeba Ali

Ainie Zafar & Adeeba Ali took a few Steps!


Since last month, Ainie Zafar and Adeeba Ali along with MSA of Ohio State University have taken few steps in combating domestic violence in Columbus community. They helped in organizing Columbus gathering and have taken lead in organizing Project Sakinah's program at OSU Campus. This program will be held in February of 2012. So far this will be our first gathering organized solely by college students. Kudos for Adeeba and Ainie for their leadership. Kudos for MSA-OSU for their willingness to collaborate with project Sakinah. Please keep them in your prayers.