On the Road to Sakinah
Project Sakinah co-sponsors a Conference at DePaul University, Chicago

Sakinah is proud to have been a sponsor of a two-day conference at DePaul University in Chicago entitled "Making This Home: Improving Health and Legal Outcomes for Immigrant Survivors." The conference was convened by the Legal Assistance Foundation, Chicago Metropolitan Battered Women's Network, LifeSpan services, and Korean American Women in Need. Conference organizer and LAF staff attorney Kulsum Ameji worked more than a year to bring together attorneys, mental health clinicians, and domestic violence advocates to explore ways to better serve immigrant survivors of Domestic Violence. Project Sakinah team members Raiesa Syed and Irma Dahlquist, together with Anas Coburn, attended the conference, made new contacts and strengthened existing relationships in the Chicago-land area, as well as benefitting from in-depth presentations on legal and mental health issues faced by survivors.
Please Help Me: The Child Abuse Epidemic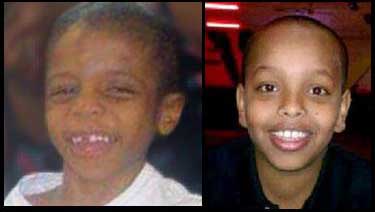 Khalil &  AbdifatahProject Sakinah continues to draw attention to the issue of child abuse. Karla Kellam wrote this very important piece for altmuslimah early this month. She says: "We cannot dismiss these stories with a pitying shake of the head because we, the Muslim community, share the burden of guilt. We have remained woefully silent on the issue of child abuse and family violence within our communities. Our Imams and Islamic publications pump out countless sermons and articles advising women on dress and couples on marriage, but there is a conspicuous silence when it comes to addressing child or spousal abuse. Perhaps we don't know when or how to intervene or we fear that by acknowledging these crimes, we will bring negative attention to our communities and confirm the worst suspicions of non-Muslims—that ours is an inherently violent, harsh faith and society. We often complain, and rightly so, that non-Muslims limit their examination of Islam to women's dress, but we are guilty of doing the same." Please click here to read this very important piece by Karla Kellam and share with others.
Next National Team Meeting on July 1st
Project Sakinah National team will be meeting on Sunday, July 1, 2012 at 6:00 p.m. This will be an online meeting. Some city teams are also gathering at one place. They will have potluck dinner at the same time and would be meeting as a group online. Community members interested in joining our teams are welcome to attend this meeting. Please contact us at gathering@projectsakinah.com for more information about the meeting.
---
Yasir Qadhi condemns Domestic Violence
"No man who beats his wife is a man. No man who mistreats a woman with whom Allah has blessed him with is a real man. Such a man is not following the laws of Allah or the sunnah of the messenger of Allah, sallallahu alaihi wassallam."

Watch the video for full statement.
---
You and Project Sakinah
Project Sakinah is your project. Its success depends upon YOU. Please do your part.



Give us feedback:

Post a question. Suggest a topic for next month's e-newsletter. Shine some light on a friend or community member. Tell us how we are doing.



Volunteer Your Time:

Time is money. Project Sakinah is a community project. It cannot sustain and grow without having enough volunteers that can invest some of their precious time in bringing the change in their communities. Even an hour a month of your time can help us reaching another goal. Please tell us if you would like to volunteer your time. There are plenty of things to do for everyone.



Join us on Facebook:

Our Facebook page is providing invaluable information to our community every day, several times a day. Join us on Facebook, invite your friends, and help us to spread the message.