On the Road to Sakinah
Update on Family Violence Cases Affecting the Muslim-American Community:
Shaima Alawadi: Murdered by person(s) unknown, March 2012. We've been in contact with the police chief of El Cajon and they are still working on the case. The case is "very complicated" according to him. Shaima's murder has not been forgotten and we will continue to follow up with them.
Abdifatah Mohamud: Beaten to death by his step-father, April 2012. His stepfather was in court last week in Buffalo, NY. He remains in jail, not eligible for bail, awaiting trial on charges of second-degree murder.
Khalil Wimes: Murdered by his biological parents, March 2012. His parents are both being held for trial in his death. It took the medical examiner 61 minutes to detail all of the scars and injuries on his poor body. The parents were denied bail. The DHS social worker involved in the case was removed as well.
Nazish Noorani: Murdered by her husband (arranged killing), August 2011. In August 2012, the family of Nazish Noorani gained custody of her two sons away from the family of her husband (who arranged her murder).
Gathering Community @ ISNA 49th Annual Convention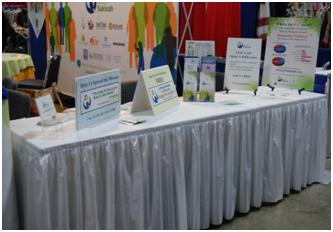 This year, by the grace of Allah, Project Sakinah achieved some "firsts" during the ISNA convention. For the first time ever, the Muslim community had a PSA about family violence that played several times in the main hall before main sessions at the convention. For the first time ever, there was a big, beautiful booth about family stability and stopping domestic violence right in front of the bazaar. The theme of the booth was Sakinah, tranquility. Cool, light colors along with fresh flowers made our booth very prominent and a refreshing sight for the bazaar visitors. Like last year, we recorded video statements of several leaders and community members in support of Project Sakinah. The community's response was very warm and welcoming. We sold and distributed several campaign items, including, stickers, buttons, bookmarks, and informative material about ourselves and our collaborators. The new pocket size card entitled "Protect Your Loved Ones" became one hot item for people to keep in their wallets or to take for their friends or family members.
New Project Sakinah Teams Forming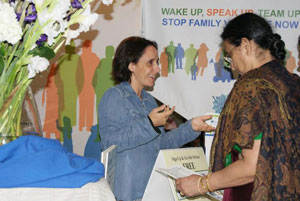 Brothers and Sisters from all over the country stopped by our booth at the ISNA Convention held this year in Washington, DC. It was inspiring to have 160 people sign up and ask "What can I do to help?" Significant numbers of people expressed interest in starting teams in Raleigh and the Washington, DC metro area. We will hold kick-off meetings in these cities as soon as we can. We are also looking forward to working with people from Florida, California, New York, New Jersey, Connecticut and Pennsylvania and Maryland who came talk to us about starting teams. If you live in one of these areas and want to get more involved in upcoming activities, please let us know.
Collaboration Deepens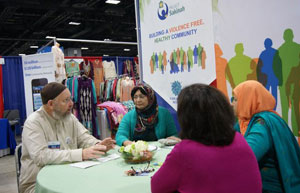 Collaboration among organizations, professionals and Imams, and community members is at the core of Project Sakinah's mission. During the 2012 ISNA convention Project Sakinah's efforts this effort was advanced in significant ways. Long-time collaborators Peaceful Families Project and the Islamic Social Services Association of the United States of America , and the Healthy Families Initiative of the Rhode Island Council for Muslim Advancement sent representatives who brought their considerable experience and familiarity with the issue to bear on interactions with visitors to our booth. The Foundation for Appropriate and Immediate Temporary Help of Herndon, VA contributed copies of the excellent "What Islam Says about Domestic Violence: a guide for helping Muslim families" by Zaynab Alawani and Salma Abugideiri which were rapidly snapped up by visitors to the booth, as were the booklets about Domestic Violence sent to us from Apna Ghar in Chicago. We had support and materials from Robina Niaz and the Turning Point for Women and Girls, as well. In addition, new relationships began with the Association of Muslim Chaplains and many other individuals and organizations.
---
Dr Tariq Ramadan Supports Project Sakinah
"I am very much supportive of Project Sakinah, because it deals with something very essential in Islam. In the name of Islam, let us come together and say 'Stop!' to Domestic Violence"

Watch the video for full statement.
---
You and Project Sakinah
Project Sakinah is your project. Its success depends upon YOU. Please do your part.



Give us feedback:

Post a question. Suggest a topic for next month's e-newsletter. Shine some light on a friend or community member. Tell us how we are doing.



Volunteer Your Time:

Time is money. Project Sakinah is a community project. It cannot sustain and grow without having enough volunteers that can invest some of their precious time in bringing the change in their communities. Even an hour a month of your time can help us reaching another goal. Please tell us if you would like to volunteer your time. There are plenty of things to do for everyone.



Join us on Facebook:

Our Facebook page is providing invaluable information to our community every day, several times a day. Join us on Facebook, invite your friends, and help us to spread the message.